On one of the Facebook Live sessions I did alongside the launch of The Business Analyst Blueprint, I came up with the idea of using Trailhead Projects to gain experience as a Salesforce Business Analyst. It was too good not to expand on and share, so here we go!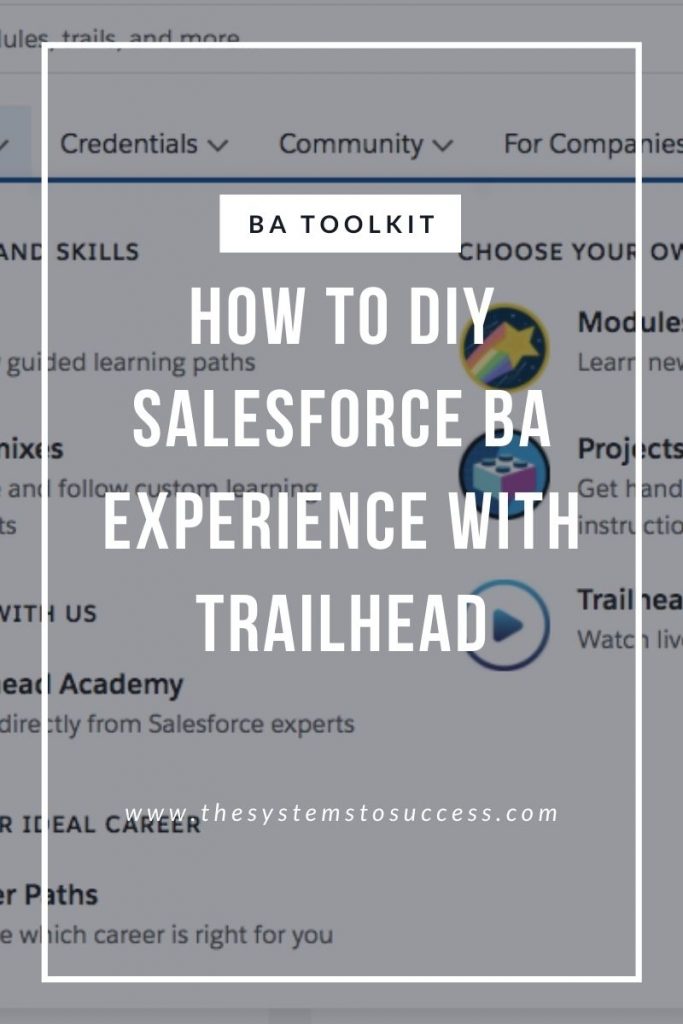 What are Trailhead Projects?
Trailhead Projects are self-contained modules on Trailhead that combine one or more features of Salesforce to create solutions for business needs. While they're amazing for learning new Salesforce skills, there's SO much that should be taking place in real-world projects BEFORE you configure a thing. 

How can I use them to create Salesforce BA Experience?
That's where Salesforce Business Analysis comes in! By thinking of these projects in a real-world context, you can layer on all of the business analysis work that should be happening before, during and after implementing the features you're working with in the Project. You can use Projects to "reverse engineer" the Salesforce BA Lifecycle and Framework to build experience and understanding of what it's like to work on actual Salesforce projects as a BA.

The easiest way to look at the Projects is as net-new implementation of a feature in Salesforce. Here's are some sample questions I'd ask and deliverables I'd create if I were working on a Project. 
Evaluation: 
What type of team would this feature be best for? What pain points would they have that this feature solves? Are there any regulatory or external factors that would precipitate the need for this solution? What measurable value would implementing this solution provide to an organization?

Analysis
What information would I need to gather to prepare for implementing this solution? Are there artefacts (documents, spreadsheets, email samples, etc) that I'd need? Are there stipulations around implementing the solution that I need to consider (specialty licenses, views for managers vs. end users)? Does this implementation interface with any other typical functionality, and if so, what are the implications of that? What do I need from stakeholders to implement this feature? Can I map out a process flow of how the functionality would operate in the real world?

Refinement
What would be a use case for implementing this functionality? How would I plan user stories? What would those user stories be? What about a project plan and tickets I would create if I'd be doing the configuration myself? Can I create a configuration workbook which identifies all of the attributes to create?

Testing
How would I test this functionality once it's implemented? Can I identify test steps that could be handed off to end users to test? How would I demo this functionality? Can I put together a slide deck that I'd use in a presentation to leadership on how this functionality solves the pain point I identified during Analysis? What measurable improvements would this solution provide–is there reporting I can build to track this? What training documentation can I create?

If you can't tell, I'm SUPER excited about this process! Techniques like these are the kinds of things I love to share–and there's going to be LOTS of sharing along these lines during the next Salesforce Business Analyst Virtual Summit happening next month (be sure to grab your early bird when they become available!).